If you have a requirement for a special type of British Standard thimbles, you can rest assured you'll find it in amongst the fantastic spectrum of thimbles right here online. It's also worth remembering to have a browse through our other types of fittings including lifting shackles and swaged terminals.
British standard thimbles – versatile and easy to use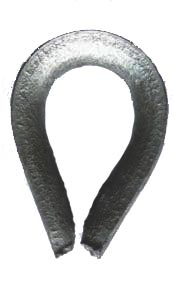 Our fairly priced variety of British Standard thimbles are great for landscaping projects and rigging, in addition to use in sailing, sculptures and art work.

Created from stainless steel, they're adaptable enough for use both outdoor and indoors. Thanks to the high quality of this type of steel, they are perfect for use in marine environments and inclement weather, as they are not prone to rust, tarnishing or degradation. They all adhere to British standard BS464 too.
Manufactured in both stainless and finishes, they can be ordered in sizes to suit rope diameters from 1/4 inch up to 2 inches and many others in-between.
Get your BS thimbles from Rope Services Direct
With many years in the business, at Rope Services Direct we supply British Standard thimbles in all sorts of shapes and sizes. Fill out our rapid order form here to give us your order now. If you would like to speak to us about your project or need help with a rope fitting, simply drop our expert team a line by calling us direct on 01384 78004.
| | | | | | |
| --- | --- | --- | --- | --- | --- |
| Diameter Rope inch | Width Groove mm | Length mm | Length Inside mm | Width Inside mm | Thickness Back mm |
| ¼ | 6 | 48 | 30 | 20 | 3.5 |
| 5/16 | 8 | 54 | 33 | 22 | 4 |
| 3/8 | 10 | 64 | 38 | 25 | 4.8 |
| 7/16 | 13 | 73 | 41 | 29 | 4.8 |
| ½ | 14 | 80 | 44 | 32 | 5.6 |
| 9/16 | 15 | 80 | 44 | 32 | 5.6 |
| 5/8 | 17 | 98 | 59 | 41 | 7.9 |
| 11/16 | 19 | 108 | 67 | 44 | 7.9 |
| ¾ | 20 | 124 | 73 | 51 | 9.5 |
| 7/8 | 23 | 133 | 83 | 57 | 9.5 |
| 15/16 | 25 | 146 | 92 | 64 | 10.3 |
| 1 | 27 | 162 | 108 | 70 | 10.3 |
| 1.1/8 | 29 | 178 | 111 | 76 | 12.7 |
| 1.1/4 | 33 | 197 | 133 | 95 | 12.7 |
| 1.3/8 | 38 | 229 | 152 | 105 | 15.9 |
| 1.1/2 | 41 | 254 | 165 | 114 | 17.5 |
| 1.5/8 | 46 | 254 | 165 | 114 | 17.5 |
| 1.3/4 | 51 | 286 | 178 | 127 | 25.4 |
| 1.7/8 | 60 | 318 | 191 | 133 | 28.6 |
| 2 | 64 | 330 | 203 | 140 | 28.6 |