About Lifting Shackles

All of our lifting shackles are guaranteed and are supplied with a test certificate for your peace of mind and to prove reliability and safety. Call us today on 01384 78004 to place your order of any type of lifting gear and to discuss your current requirements. We also have an extensive collection of other fittings to suit many purposes.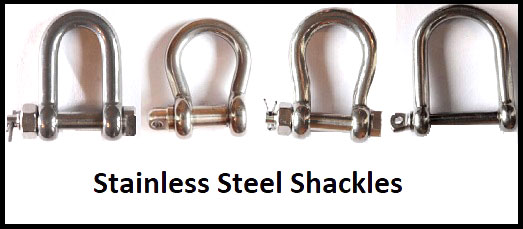 A shackle is a removable connector typically used for wire rope fittings in lifting operations. Shackles are ideal connectors for use with steel wire-rope, chain & other types of lifting slings to connect loads to hoisting equipment. The screw pin in a shackle enables them to be easily attached and removed.
A shackle with a safety bolt is used for more long term or permanent fixing and also where the load may slide causing rotation of a pin type shackle, available in various types & sizes in mild steel, alloy and stainless steel.
Lifting Shackles can be used in both lifting operations and static systems. They are used as a detachable link to connect different lifting equipment.
There are different types of lifting shackles available which suit different applications. For example safety bolt shackles are used for long term or permanently fixed applications or where the load may slide on the pin causing the pin to rotate free.
Screw pin shackles are mainly used for non permanent applications. Due to the fact that the screw in pin enables quick and east attachment and removal.
Bow Shackles & Dee Shackles for Slinging
We can offer an extensive range of bow and dee type shackles. Help is available to select the right one for your operation. Bow shackles are typically used with multi-leg slings whereas a Dee type lifting shackle is normally used for single leg sling applications. Whichever type of sling is used with a lifting shackle, it should always seat in the shackle's body, not on its pin.
When lifting shackles are utilized for slinging and lifting purposes extra care should be taken. For example, if a shackle is to be used with a wire rope lifting sling then you should ensure that the diameter of the wire rope is smaller than the widest part of the inner shackle area. It should not fit so tightly that is cannot freely move.
When lifting shackles are used with webbing type slings (either flat or round webbing) you should make sure that the shackle is large enough for the webbing to lay flat around the shackle. Bunching up of the webbing is not a good idea.
When a lifting shackle is used in a choker hitch the sling eye should sit on the shackle's pin and the shackle's bowl rests on the main body of the sling (see diagram).
Special Shackles:
All shackles have a specific design for a specific application, some examples are:
Sling shackles are great for use with larger lifting slings. They provide a better radius to the sling being used, and therefore prevent the sling from bunching up.
There are numerous specialty lifting shackles which Rope Services Direct can supply. Including, sling saver shackles, green pin shackles, trawler shackles, piling shackles, ROV release shackles and wide mouth shackles. So if you need a specific type of lifting shackle then please give our team a call, we can usually help, and always offer great prices.
Shackles used for lifting applications should be stamped with the following marks to specify the quality and safety of use of the shackles.
Steel grade (i.e. 4,6,8)
Working load limit (i.e. WLL 25t)
CE conformity (CE, conformity European indicating the product is suitable for lifting purposes.
Traceability code (i.e. H, pertaining to the manufacturer's identity or batch.)
Our shackles meet all necessary requirements.
FINISH:
We can supply shackles finished in a variety of different means:
Hot dipped galvanized
Electro-galvanized
Painted
Self coloured.