Tired of searching high and low for the specific wire rope grips you need? Worry not! When you are looking for a highly versatile green pin wire rope grips, then now is a great time to pick from our great size choice on offer online at Rope Services Direct.
Green pin wire rope grips – dependable and tough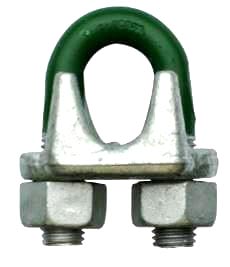 Green pin wire rope grips are especially for use in much heavier operations. Primarily required to work with galvanised steel rope or stainless steel rope, you can easily get your hands on many sizes with us. They are exemplary in a broad field of uses in the building, boating and fishing and entertainment sectors.
Each bridge is made from drop forged high tensile steel (SAE 1035 or SAE 1045) whilst the U-bolts are made to SAE 1015 standard. This type of rope grip can be purchased in a fantastic variety of widths. They are available with a hot dipped galvanised finish with electro-galvanised finish on the nuts on grips 5mm & 6mm bow diameter.
Also browse through our other fitting products on offer, we have an extensive selection of wire rope grips as well as wire rope sockets for you to purchase.
Select your rope grip from us today
From our West Midlands base, Rope Services Direct we are proud to sell many types of green pin wire rope grips for an array of uses. In order to make a purchase, just fill in an order form or call us on 01384 78004 for more advice.
| | | | | | | | |
| --- | --- | --- | --- | --- | --- | --- | --- |
| Diameter Wire Rope inches | Diameter Bow mm | Length Bow mm | Width Inside mm | Length Thread mm | Length Base mm | Thickness Base mm | Height Base mm |
| 1/8 | 5 | 24 | 12 | 11 | 24 | 21 | 10 |
| 3/16 | 6 | 31 | 15 | 13 | 29 | 24 | 13 |
| ¼ | 8 | 34 | 19 | 13 | 37 | 30 | 18 |
| 5/16 | 10 | 45 | 22 | 19 | 43 | 33 | 19 |
| 3/8 | 11 | 49 | 26 | 19 | 49 | 42 | 25 |
| 7/16 | 12 | 60 | 30 | 25 | 58 | 46 | 26 |
| ½ | 13 | 61 | 30 | 25 | 58 | 48 | 31 |
| 9/16 | 14 | 72 | 33 | 32 | 63 | 52 | 31 |
| 5/8 | 14 | 74 | 33 | 32 | 64 | 54 | 36 |
| ¾ | 16 | 86 | 38 | 37 | 72 | 57 | 38 |
| 7/8 | 19 | 98 | 45 | 41 | 80 | 62 | 40 |
| 1 | 19 | 108 | 48 | 46 | 88 | 67 | 47 |
| 1.1/8 | 19 | 117 | 51 | 51 | 91 | 73 | 48 |
| 1.1/4 | 22 | 130 | 59 | 54 | 105 | 79 | 56 |
| 1.3/8 | 22 | 140 | 60 | 59 | 108 | 79 | 58 |
| 1.1/2 | 22 | 147 | 66 | 60 | 112 | 85 | 64 |
| 1.5/8 | 25 | 161 | 70 | 67 | 121 | 92 | 67 |
| 1.3/4 | 29 | 174 | 78 | 70 | 134 | 97 | 76 |
| 2 | 32 | 195 | 86 | 78 | 150 | 113 | 85 |
| 2.1/4 | 32 | 213 | 98 | 81 | 162 | 116 | 100 |
| 2.1/2 | 32 | 227 | 105 | 87 | 168 | 119 | 113 |
| 2.3/4 | 32 | 243 | 112 | 91 | 174 | 127 | 124 |
| 3 | 38 | 271 | 121 | 98 | 194 | 135 | 136 |