If you want a restraint webbing lanyard that can be augmented with fittings of your own choosing, the 1.5m restraint webbing lanyard – FA40 300 15 is an excellent choice. It measures 1.5 metres long and has loop eyes at either end, ready to accept hooks, thimble eyes or other additions you have in mind.
1.5m Restraint Webbing Lanyard – FA40 300 15 Specifications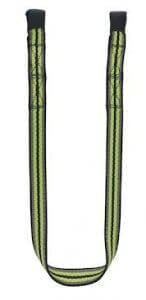 The design of this polyester lanyard is simple yet effective. It has a width of 30mm, a length of 1.5 metres and a minimum breaking strength of 22kN, providing plenty of practicality for fall arrest purposes.
The loops come with tubular webbing as a means of protecting them from the kind of abrasive friction that can be caused during everyday use. Whether you want to add snap hooks, thimbles or other components to this lanyard, you have the freedom to do so.
Custom Lanyard Options
If you would rather choose a restraint lanyard with fittings included, we offer kermantle rope lanyards with attachments included. You can find full height safety bundles, including our specialised 2 point hi-viz restraint kit if you do not fancy putting together all of the individual components available on our site under your own steam.
Get Guidance on our Restraint Gear
Feel free to ask the experts at Rope Services Direct when you need to know more about our range of equipment designed for safe working at height. Email us from our site or call our hotline on 01384 78004 to speak with our experienced staff.