Stainless Steel Catenary Wire Kit

Stainless Steel Catenary Wire Kit
You will see from our product page section that we have a number of individual pieces of equipment which are used for dozens of applications and industries. However, we also supply a number of kits that will come complete with everything needed for particular applications. This page contains more information on a stainless steel catenary wire kit, we also sell galvanised kits.
What is in this type of stainless steel catenary wire kit?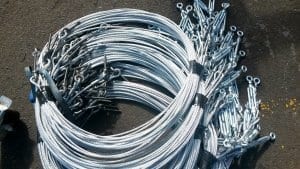 A stainless steel catenary wire kit is a kit that we have assembled using several of the products that we manufacture or stock. It contains everything that you'll need for your application. The most typical uses for these kits are for creating stable anchoring points and for safely suspending electrical cables overhead.
This kit contains our reliable and popular wire rope, which we can produce in a variety of diameters and lengths. Alongside this, it will also contain thimbles, wire rope grips, hook/eye tensioners and wall plates.
We stock two main versions of these kits; the galvanised version and the stainless steel version. The stainless steel option, featured on this page, is constructed from strong, long-lasting and resistant stainless steel. The difference with the galvanised option is that it has an extra layer of protection against rust and corrosion.
If you are unsure what the right kit might be for you, then we would be more than happy to discuss this in more detail.
Getting in touch with us
To discuss the above catenary wire, or anything else on our website, please give us a call on 01384 78004 or contact us here.
Rope Services Direct can cater for all your individual requirements thanks to having our own workshops and wire rope riggers. Don't worry if you can't find exactly what you are looking for, just get in touch with the team.
There are no products to list in this category.