When applied to wire rope assemblies, thin walled carbon steel ferrules will create a tough, chemically stable termination point that can combat all sorts of corrosion and physical distresses. You can order custom thin walled ferrules from Rope Services Direct, along with ferrules of other materials.
Thin Walled Carbon Steel Ferrules – Basic Details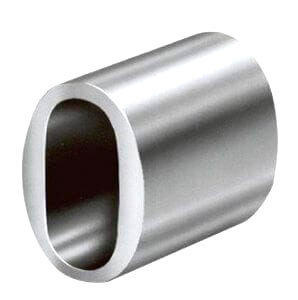 As with any metal ferrule, a thin walled unit made from carbon steel will fix the end of a wire rope in place and give you the opportunity to add an attachment or loop it back on itself if necessary.
Thin walled carbon steel ferrules are composed of two materials which complement one another very well. While aluminium ferrules are more widely used, they are not as capable when encountering high operating temperatures. They also succumb to corrosive substances and environments with greater ease. This is why carbon steel ferrules like this are necessary in certain industries.
Safety Benefits of Carbon Steel Ferrules
Our carbon steel ferrules are made with an expert eye for detail and pressed with equipment that ensures a permanent, immovable fit. This helps make safe lifting achievable in any scenario and accounts for the often hostile atmospheres that wire rope assemblies have to face.
Looking for Ferrule Info & Advice?
You may have a lot of queries about the carbon steel thin walled ferrules we sell here at Rope Services Direct. We can offer expert guidance on rope fittings when you get in touch by calling 01384 78004 or emailing us. We aim to reply quickly and accurately every time.
Wire Rope Capacity Diameter (mm)
Die Identification
Ferrule Size
Fill Factor (f=0.45-0.52) Fibre Core
Fill Factor (f=0.58-0.60) Steel Core
Dies Marked
Diameter after Pressing
Straight length after pressing approx.
Required pressure approx.
Min
Max
Min
Max
mm
Tol
mm
kN
17
16
16.8
15.5
16.3
16
28.7
+0.5
64
1700
17
16.8
18.3
16.3
17.8
17
29.5
0
64
1700
19
18.3
19.3
17.8
18.7
18
32.4
71
2000
19
19.3
20.2
18.7
19.6
19
33.3
+0.6
71
2000
21
20.2
20.9
19.6
20.3
20
34.7
0
78
2300
21
20.9
21.8
20.3
21.1
21
35.2
78
2300
23
21.1
23.2
22
39
84
2700
23
22.5
24.3
23
40
84
2700
25
23.6
24.5
24
42.7
93
3100
25
24.5
25.5
25
43.3
93
3100
27
25.5
27.5
26
45.9
101
3500
27
26.7
28.5
27
46.6
101
3500
29
27.9
28.8
28
49
+0.8
119
4300
29
28.9
29.8
29
50
0
119
4300
31
29.9
30.8
30
53
+1
124
4900
31
30.9
31.8
31
54
0
124
4900
33
31.9
32.8
32
55.2
132
5500
33
32.9
33.8
33
56
132
5500
35
33.9
34.8
34
58.5
140
6500
35
34.9
35.8
35
59.5
140
6500
39
37.9
38.8
38
65
157
7500
39
38.9
39.9
39
66
157
7500