In the market for a great value 1000 KG round sling? The industry standard purple coloured 1 tonne round sling is available at Rope Services Direct in 20mm widths and a range of lengths.
1000 KG round sling – reliable lifting


All our round slings are made to UK built BS EN 1492-2:2000 CE standards. Manufactured from high-strength polyester webbing, 1000 kg round slings will lift and transfer a variety of loads, particularly when choke-lifting cylindrical shaped items. They are extremely durable and a fantastic alternative to wire rope and lifting chains.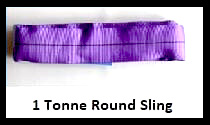 Each of our 1000 kg round slings are crucial in a range of lifting operations, especially for lifting more delicate objects, as the soft outer tube like cover helps to protect the load.
In the interests of safety and security, a sling should never be overloaded. This means that if you wish a sling to reliably support a load in excess of 1 tonne, take the time to choose from our alternatives to round slings including our fibre rope slings as well other lifting slings.
Time to place your order with Rope Services Direct
RSD are pleased to be able to source a wide variety of safe working load round slings for numerous jobs. To send us an order for one or more round slings, simply spend a few minutes completing our speedy online order form. Need some more advice or further help? Just pick up the phone and call us direct – 01384 78004.
| | | | | |
| --- | --- | --- | --- | --- |
| SWL tons | Length EWL MTR | Average Dia. mm | Colour | Weight KG |
| 1 | 0.5 | 20 | Purple | 0.13 |
| 1 | 1 | 20 | Purple | 0.25 |
| 1 | 1.5 | 20 | Purple | 0.38 |
| 1 | 2 | 20 | Purple | 0.5 |
| 1 | 2.5 | 20 | Purple | 0.63 |
| 1 | 3 | 20 | Purple | 0.75 |
| 1 | 4 | 20 | Purple | 1.01 |
| 1 | 5 | 20 | Purple | 1.27 |
| 1 | 6 | 20 | Purple | 1.53 |