Rope Services Direct offers a diverse range chain lifting slings, double leg chain slings are a popular choice. All slings we sell are fully certificated and are available in grade 8 as well as grade 10 steel. We stock leading brands and a more economical range, so take a look inside our website.
Double leg chain slings – 2 leg lifting chains

Our double leg chain slings are manufactured to your precise instructions. So, whatever your requirements for WLL (working load limit) and length, we have the right sling for you!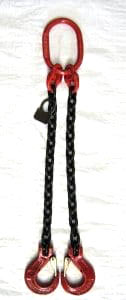 Additionally, we can supply a diverse range of attachments (e.g. hooks), to complement your purchase. Carefully consider your requirements when purchasing a chain lifting sling as it will depend upon factors such as your handling processes, types of load and weights to be lifted, etc.
Still unsure the specific one you need? It's vital you choose the right sling for your precise requirements, so you may find it helpful to peruse our other chain lifting slings, including single leg types, fibre rope slings, endless slings and coated slings to check out the alternatives.
Why wait? Get your order in with us now
From our substantial warehouse near Birmingham in the UK, Rope Services Direct supplies a large variety of lifting slings no matter what you want to get done. Use our online form to get your order to us today, and we can then get back to you.
If you require extra assistance or feel unsure of what lifting sling to choose, our knowledgeable team are on hand and can be contacted on 01384 78004. Just ask!