Lifting Rings & Links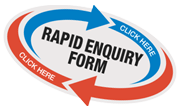 Lifting rings & links are just one of our extensive ranges of fittings available for wire rope products or even webbing products. You can view the full range of wire rope fittings here, which includes, eye bolts, shackles, thimbles, rope grips, ferrules, terminals and more.
Lifting Rings Available
There is a wide range of lifting rings and links available for different types of applications. From master links to 'D' rings, Rope Services Direct can supply the majority.
We can supply many types of lifting rings & links in either a drop forged variety or as welded components. They also come in mild steel, high tensile steel and stainless steel to suit your needs. All of our lifting rings and link types are available in an array of sizes. Therefore there should be a ring or link which will work well with your intended application.
The range of lifting rings & links to choose from includes delta links, triangle links, square links, oval & round rings and more. The delta type links are ideal for use as a quick link as they incorporate a screw fastener. It is easy to overlook the usefulness of these small fittings. However they are critical to the success and safety of many lifting operations.

Uses of Rings & Links
Lifting rings & links have many uses and are used in lots of different industries. Lifting rings & links can be fitted to wire ropes or sometimes webbing products to provide you with a good, strong anchoring point or fitting point for other accessories. A ring can connect two web slings or rope slings together. Often called master links. A D type link or triangular links can be used for smaller webbing straps. For examples, you will normally see 'D' rings on safety harnesses. Delta type quick links can be utilized for connecting multiple items. Connections are quick and non-permanent. Also wire ropes can be connected with a ring to create a multi leg web sling. Although they will need a suitable end termination. In fact the uses of lifting rings & links are endless.
Other Fitting Options
Whether you are looking to buy hoist rings, master links, Delta or 'D' types for your lifting operations, look no further. The team at Rope Services Direct are here to help. Advice, Quotations, repairs and/or testing we are happy to cover it all.
We have an enormous selection to choose from including top branded products. RSD always aim to quote you the absolute best possible prices we can for all of our products. We are usually among the cheapest around.
Our advice is to view the products on this page or our main fittings page and then contact us. If you know exactly what you need but can't find it on this page, or if you need some advice on which fitting would be best for your intended operation speak to our team on 01384 78004 to discuss your requirements. Alternatively you can use the rapid enquiry button or the contact us page to send an email, these will usually be replied to the same day, often within the hour.