The safe, comfortable single point restraint harness kit available here at Rope Services Direct can keep you stable and secure while working at height. Comprised of a harness, rope lanyard and carry bag, it is a cost-effective option for safety-conscious people.
Single Point Restraint harness kit – Key Features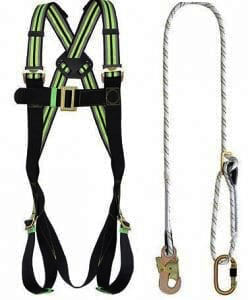 The single point harness that comes with this kit has straps for the wearer's shoulders and thighs which are colour coded to avoid a mix-up, as well as being fully adjustable to ensure a universal fit.
A sit strap is also featured, giving support to the wearer's posterior. This ensures they are comfortable during long periods of use. The dorsal attachment D-ring is affixed to the harness for the purposes of fall arrest, which provides peace of mind.
The rope lanyard is two metres in length and 12mm in diameter. It has special thimbles installed in the loops to resist abrasions and ensure it does not wear out too quickly.
Kit Attachments and other capabilities
The sturdy steel snap hook makes it convenient to attach the lanyard to an anchor point and remove it when it is time to move. The breaking strength is 22kN. So the rope should withstand the kind of loads that most users will need. See our 2 point restraint kit for an even sturdier height safety option.
Ask us your Restrain Equipment Questions
Whether you have some queries about the height safety kit we sell, or would like a competitive quote for a restraint kit product, we are happy to oblige. Reach our team by calling 01384 78004 or emailing us online for all the information you need.