The 10-15-20m Scaffold Hook Kernmantle Rope Lanyard trio in this range feature a scaffold hook at one end, while the other is occupied by a thimble eye. The smallest is 1m in length, while 1.5m and 2m examples are also available.
10-15-20m Scaffold Hook Kernmantle Rope Lanyard – FA40 502 10/15/20 Features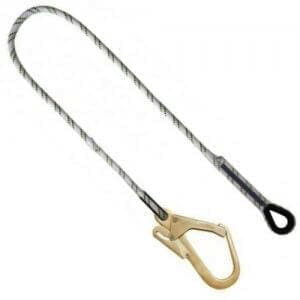 While our basic restraint kernmantle lanyard comes with a thimble eye at either end, this range swaps out one of these for a sturdy scaffold hook. This is a suitable fitting for various uses, allowing you to quickly snap the restraint on or off in a matter of seconds and stay safe on scaffolding.
The rope itself embraces the common kernmantle design, which is one of the most durable options out there and should minimize abrasions while limiting the likelihood of breakages occurring.
Further anti-abrasion measures are present on the loops and stitching, creating an undeniably resilient end result. The only thing to distinguish each of these restraint lanyards from its stable mates is the length, so you simply need to pick the one that fits the specs you have in mind.
Kits, Equipment and More
With fall arrest blocks, webbing lanyards and full restraint harness kits on our site, you should find all you need at Rope Services Direct.
Get help with all our Lanyards and Height Safety Products
Restraint lanyards are just the tip of the iceberg in terms of the height safety equipment we stock. To find out more, call Rope Services Direct on 01384 78004 or use your device of choice to contact us on email.