If natural fibre cords will not work for you, our polypropylene cord represents the ultimate in synthetic strength and durability. Its available in a number of lengths and widths.
Benefits of Polypropylene Cord Explained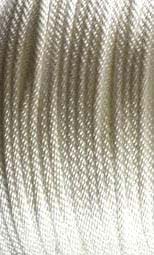 As with other synthetic materials available in our twine and cords category, polypropylene resists adverse environmental factors, chemicals and even high temperatures. It is also surprisingly light for the amount of load-lifting power it provides.
It is possible to use polypropylene cord for almost anything. From fastening objects together to keeping packages and parcels in one piece during transit. Its stretchiness is an advantage in most cases, as it can flex quite a bit before it reaches its limit. This further adds to its durable nature, allowing it to sit alongside polyester and nylon as an excellent option for many of our customers. Just remember to follow advice on safe handling if it is used in this setting.
Twine & Cord Varieties Uncovered
Alternatives to polypropylene cord like sisal and cotton provide a more sustainable option, while also steering clear of its synthetic look and feel. However, if practicality is at the top of the agenda, polypropylene will deliver the best results.
Get Important Information
The fastest way to find out more about the polypropylene cord or other fibre rope we sell is to call 01384 78004 and speak to the Rope Services Direct team. Alternatively, you can email us and we will get back to you as quickly as possible.