If you are looking for a wire rope product that is not only strong and reliable, but also resistant to unnecessary or unwanted movement, twisting or rotating, then you've come to the right place. Rope Services Direct is one of the most popular suppliers of this innovative piece of equipment, and we are ready to help you with your operation too, you can find out more about us here. Below you will find some brief information on our 35x7 non-rotating wire rope.
Product details; 35x7 non-rotating wire rope
This equipment rope is constructed from strong and robust stainless steel, built to be resistant to corrosion and also built to last. It features 35 bundles of 7 strands, featured in three layers which have been laid in different directions, leaving the rotation resistant final product.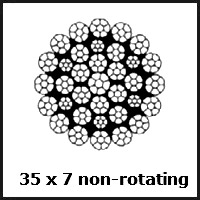 What this product gains in resistance to movement, it can lose slightly in resistance to friction. Please take extra mind when it comes to using this product, ensuring that you more regularly inspect it for quality.
We, of course, would be more than happy to assist you with this should you be unsure of what to look out for.
More information on placing an order with us
There are several ways that you can place an order with us. The quickest and most efficient way will be to fill out one of our rapid enquiry forms, located at the top of this page. Or, if you would prefer to speak to a sales rep, please simply give us a call on 01384 78004.
Nominal Diameter
Weight 100m
Minimum Breaking Load 2,160
N/mm2
mm
kg
kN
kg
10
48
96
9,800
11
58
116
11,800
12
68
138
14,100
13
81
162
16,500
14
94
188
19,200
15
108
216
22,000
16
122
245
25,000
17
138
277
28,200
18
155
311
31,700
19
173
346
35,300
20
195
372
37,900
21
215
424
43,200
22
241
474
48,300
23
267
519
52,800
24
284
551
56,100
25
312
606
61,800
26
335
652
66,400
27
360
700
71,300
28
391
760
77,400
29
413
803
81,800
30
446
866
88,200
31
478
929
94,600
32
503
977
99,500
33
536
1,032
105,000
34
574
1,105
113,000
35
606
1,166
119,000
36
642
1,235
126,000
37
674
1,296
132,000
38
718
1,381
141,000
39
753
1,449
148,000
40
793
1,525
155,000
41
828
1,594
162,000
42
870
1,673
170,000
43
913
1,756
179,000
44
948
1,825
190,000
45
993
1,912
195,000
46
1,040
2,007
207,000
47
1,080
2,086
212,000
48
1,140
2,186
223,000