Looking for safe, reliable and strong non-rotating rope? Our specially designed and manufactured 24x7 rotation resistant wire rope could be for you. We have loads of end fittings to choose from too.
The details for the 24x7 Rotation Resistant Wire Rope
For the majority of operations and applications, standard wire rope is more than capable of completing the task at hand. Its construction lends itself to strength and stability, and ensures that all operations remain safe and free of risk.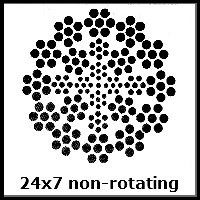 However, this same construction can lead to a natural rotating of the rope, something that must be avoided in some operations. For that very reason, this equipment has been designed. This non-rotating rope product has an outer layer which runs in the opposite direction to the inner layer, meaning the force movement is cancelled out between the two. The more layers that this type of rope has, the less rotating there will be.
This particular product has a construction of 3 layers of 24 bundles of 7 strands of wire. This metal further increases this product's resistance, but to corrosion and rust.
How to place an order for anti spin rope with us
Looking to discuss the characteristics of non-rotating wire rope further? Want to find out more about this particular 24x7 construction? Or simply ready to order your very own? We can help with all of this, and more. To order, please fill out a rapid enquiry form at the top of this page. For all else, please either give us a call on 01384 78004, or find a full list of our contact details here.
2160 Mpa
Diameter
KG/M
kN
8
0.27
56
9
0.34
69
10
0.43
86
11
0.51
104
12
0.61
125
13
0.72
145
14
0.86
175
15
0.94
190
16
1.12
221
17
1.25
248
18
1.41
278
19
1.53
310