Here at Rope Services Direct we manufacture, stock and supply a wide range of wire rope products, suitable for many different industries and applications. Each has its own unique set of features and functions, so it's important that you shop carefully. Here you will find more information on our 19x7 rotation resistant wire rope.
19x7 Rotation Resistant Wire Rope Full product information
Non-rotating rope has been constructed in a different way to standard rope. With the standard versions, all strands and wires have been laid in the same direction in order to create the finished product.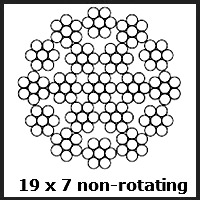 The difference with this type of product is that the outer layers of strands and wires have been laid in the opposite direction to the inner layers. This means that the outer layer will have the opposite direction of force movement to the inner layer, so they will effectively cancel each other out.
This innovative method of construction helps to prevent any unnecessary and unwanted rotating of the rope keeping operations and results safe and predictable.
The 19x7 non-rotating wire rope has been constructed from 19 bundles of 7 strands of strong, robust stainless steel metal.
How to order your Anti-spin Rope
To find out more about this highly useful product and its uses, or to jump right ahead and place an order, all you need to do is get in touch with us. Please give us a call on our number on 01384 78004, or find a full list of contact details here.
1770
1960
Diameter
kg/100M
kN
Kg
kN
Kg
3,0
3.61
5.23
533
5.79
590
4,0
6.42
9.29
947
10.29
1,049
5,0
10.03
14.51
1,480
16.07
1,638
6,0
14.44
20.9
2,130
23.1
2,359
7,0
19.65
28.4
2,900
31.5
3,211
8,0
25.66
37.2
3,788
41.1
4,194
9,0
32.48
47
4,794
52.1
5,308
10,0
40.1
58.1
5,918
64.3
6,553
11,0
48.52
70.2
7,161
77.8
7,930
12,0
57.74
83.6
8,522
92.6
9,437
13,0
67.77
98.1
10,001
108.6
11,075
14,0
78.6
113.8
11,599
126
12,844
16,0
102.66
148.6
15,150
164.6
16,776
Minimum Breaking Force Factor
K = 0.328
Nominal Length Mass Factor
W = 0.401