One of the most important elements to consider when using any crane is the rope. Whether it's a container crane, mobile crane or tower crane. Here at Rope Services Direct we supply only the highest calibre, premium quality wire rope, ideal for use in a wide variety of applications. One of these is for use as tower crane rope, which we detail below.
Tower Crane Hoist Rope Types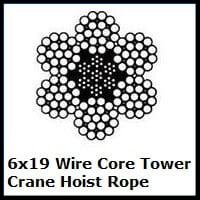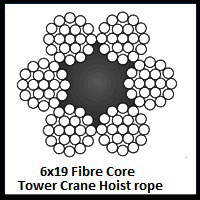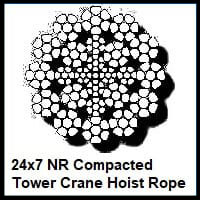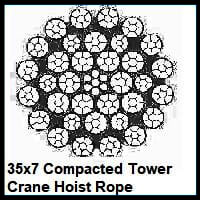 Tower Cranes
Tower cranes are used for lifting heavy building materials such as concrete slabs, steel, a wide range of building materials and machinery (e.g. generators). Often rising several hundred feet into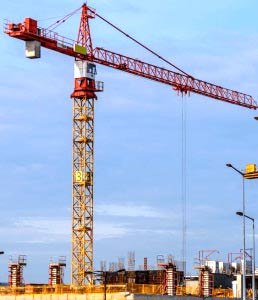 the air, they are usually a local landmark. They are particularly important in the construction of tall buildings that are hard to reach with other types of crane. There are many safety aspects to consider when using a tower crane , read up on tower crane safety and guides before use.
Parts of a tower crane include:
The base
The base of the tower crane is incredibly important. It supports the rest of the crane and forms an interface between the building and the crane itself.
The mast
The mast or tower adds height to the crane and holds the elevator as well as the operator's cab.
The slewing unit
The rotating element of the crane that allows the crane to turn almost 30 degrees.


Selecting the right tower crane rope for your application
There are several different types of rope necessary to support the function of a Tower crane. These include pendant rope, derricking rope, trolley rope and hoisting rope. The requirements for each rope are different. The type of load, the height and distances you need to cover need to be considered. As well as the radius of the swing and the degree of mobility required.
Hoisting ropes operating at high speeds and requiring large hoisting heights need to meet specialist requirements. The resistance in multi-layer spooling is crucial for most hoisting ropes.
The trolley is the section of the crane responsible for ensuring heavy loads can be placed with the utmost precision. Trolley wires require a high bending strength and extremely high breaking forces.
Pendant ropes are required to lift high tension fatigue loads. When selecting a suitable wire rope be aware that the higher the rope's crushing resistance the lower the ropes fatigue resistance tends to be.
Contact Rope Services Direct for more information
Rope Services Direct specialise in wire rope suitable for almost all applications. Our tower crane rope is designed with the utmost precision to provide rotation resistance (which is critical at heights for wind resistance), a high breaking force, long service life and high levels of crush resistance. For more information please give us a call on 01384 78004, our full contact details are here, including our contact form.