Whatever purpose you have in mind, if you're looking for a set of strong, highly versatile commercial pattern rope grips for your project, you might want to consider choosing some from our fantastic range here at Rope Services Direct.
Commercial pattern rope grips – durable and sturdy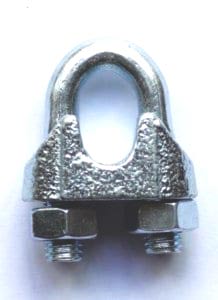 Perfect for a wide range of uses involving galvanised steel rope and stainless steel rope, commercial pattern rope grips are essential for those who work in the construction or marine industries. Made from super strong DIN 741 steel, the bridge is made from malleable steel whilst the 'U' bolt is from mild steel.They have an electro-galvanised finish for extra protection.
They're sometimes known as bulldog grips where they are used on building sites for joining rebars together in reinforced concrete.
They come in a huge variety of sizes from 3mm to 50mm depending on the rope diameter.
If you're not sure whether it's a commercial pattern rope grip you really need, why not also take a look through all other types of wire rope grips and wire rope sockets many other fittings are available too.
Order your rope grip
Based in the UK, at Rope Services Direct we are pleased to offer a great range of commercial pattern rope grips for a variety of purposes. To place your order,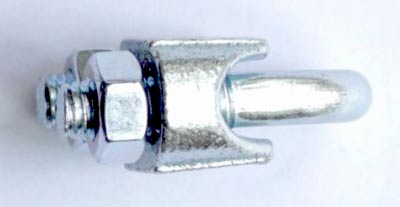 just fill out our speedy enquiry form here. Want to speak to us about your project or need to ask a question? Get in touch with us on 01384 78004 so we can help.
| | | | | | | | |
| --- | --- | --- | --- | --- | --- | --- | --- |
| Dia Wire Rope mm | Dia Bow mm | Length Bow mm | Width Inside mm | Length Inside mm | Length Base mm | Thickness Base mm | Height Base mm |
| 3 | 4 | 20 | 9 | 12 | 21 | 10 | 10 |
| 5 | 5 | 24 | 11 | 13 | 23 | 11 | 10 |
| 6 | 5 | 28 | 13 | 15 | 26 | 12 | 11 |
| 8 | 6 | 34 | 16 | 19 | 30 | 14 | 15 |
| 10 | 8 | 42 | 19 | 22 | 34 | 18 | 17 |
| 11 | 8 | 44 | 20 | 22 | 36 | 19 | 18 |
| 13 | 10 | 55 | 24 | 30 | 42 | 23 | 21 |
| 14 | 10 | 57 | 25 | 30 | 44 | 32 | 22 |
| 16 | 12 | 63 | 29 | 33 | 50 | 26 | 26 |
| 19 | 12 | 75 | 32 | 38 | 54 | 29 | 30 |
| 22 | 14 | 85 | 37 | 44 | 61 | 33 | 34 |
| 26 | 14 | 95 | 41 | 45 | 65 | 35 | 37 |
| 30 | 16 | 110 | 48 | 50 | 74 | 37 | 43 |
| 34 | 16 | 120 | 52 | 55 | 80 | 42 | 50 |
| 40 | 16 | 140 | 58 | 60 | 88 | 45 | 55 |
| 50 | 20 | 170 | 72 | 77 | 106 | 51 | 65 |