This cost-conscious 2 point basic restraint harness kit integrates a standard harness and a rope lanyard. All packed into a rucksack or kit bag, giving you plenty of value and solid safety capabilities.
Our 2 Point Basic Restraint Harness Kit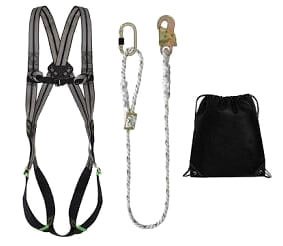 The one-size-fits-all harness that comes with this kit has straps that can be altered to accommodate different users, no matter their measurements. The D-ring anchor point on the rear help to keep the wearer safe. While a pair of textile loops on the chest let you attach other fall arrest lanyards as necessary.
The 2 metre twisted rope lanyard comes with this bundle as standard. The lanyard's length can be reduced to just 1.4 metres in length, which makes it fairly flexible. Made from polyamide, it is certainly tough and has a minimum breaking strength of 22kN. A steel snap hook makes repositioning the lanyard on another anchor point a breeze, while the karabiner at the opposite end is similarly hard-wearing.
Other Restraint Gear to Check Out
If the 2 point basic restraint harness kit is not as comprehensive as you would like, browse our other options. This includes the luxuriously comfortable 2 point premium kit as well as the super safe 3 point restraint kit.
Tap into our Restraint Kit Expertise
To talk to someone about your restraint kit questions, or for a competitive quote on any of our height safety equipment, call or email Rope Services Direct. Visit our contact page for details of our email form, or phone us on 01384 78004 and get expert advice.