Whether you have a craft project that needs some natural twine to top it off, or you want an eco-friendly way to train plants in your garden, sisal twine will be a good investment. It is also suited to commercial use as a sustainable way to secure packages.
Choosing Custom Sisal Twine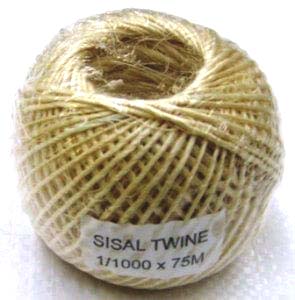 Sisal twine comes from a type of agave plant and is processed to create a twine that is stronger and more resilient than you might imagine. One of its most important properties is its ability to resist water for long periods. Even salt water will not damage it quickly, which gives it the edge over cotton twine.
Even with this promise of improved resilience, it is still worth remembering that sisal is biodegradable. In the long run this means that it will lose its integrity but will not be an environmental hazard.

Why Buy Sisal Twine?
Sisal is a bit more fibrous than its natural fibre stable mates. This leaves it with lower levels of flexibility. For business and home use it is still an immensely effective twine option, as well as one which looks the part if you are trying to achieve a vintage aesthetic. Rope Services Direct also sell sisal rope and a variety of other natural fibre ropes on our site.
Contact Rope Services Direct
Sisal twine is just one of the many fibre products we sell, so if you need more information about its properties or have any other type of question, just get in touch. Send us an email direct from our site, or call 01384 78004 to talk to a team member today.