50mm Ratchet Straps

50mm ratchet straps are included in our range of ratchet straps and other forms of cargo restraints, they play an important role in many
industries, where the safe securing of loads is necessary. Loads can come in an almost limitless number of shapes and sizes, not to mention weights. Its crucial to have equipment and tools that can handle this. Our ratchet strap products are some of the most popular here at Rope Services Direct. Safety is obviously a priority when it comes to this product, and these have been manufactured with that in mind.
We stock 4 sizes of ratchet straps, 25mm mini ratchets, 35mm, 50mm and 75mm, this page is devoted to the popular 50MM ratchet straps. All of our ratchet straps make the securing of loads and goods easy. They can be used for a range of purposes both commercially and in leisure use.
For example, we supply the transport industry with these products, helping to deliver millions of products around the UK safely. But we also supply to individuals too, who perhaps just want to tie down loads to their vehicles. Our ratchet straps really are versatile pieces of equipment!
Bespoke 50mm ratchet straps
The 50mm ratchet straps will be cut to your desired length in-house. They will then be stitched with the required fittings by a member of our team; You should always let us know the exact length required. This will determine the final price of your 50mm ratchet lashing. This will be at our usual competitive rates!
We have a number of ratchet strap fittings suitable with our straps. These are:
Fittings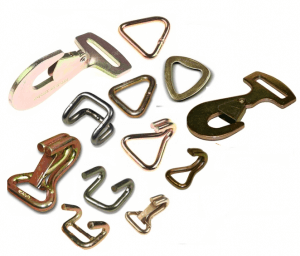 Ratchet buckles – Available in long and short handle, and narrow and wide versions. These buckles resemble the kind you'll find on a seatbelt on an airplane, and have an extremely powerful and safe locking mechanism.
Claw hooks – As its name suggest, this is a hook that resembles a claw. They differ to most conventional hooks, however, in that they are usually twin wire with a strong welding point in the middle. They also come in a range of sizes, and this type of fitting is most often used to lash down cargo.
Chassis hooks / rave hooks – Similar to the claw hooks mentioned above, except these tend to offer a wider or double fitting point for cargo straps. Perfect for use on lorry lashings or straps
Delta rings – These are also referred to as 'D' rings, and are the perfect choice of ratchet strap fitting if looking to create an anchoring point to hook fittings that already exist in lorries or trailers. As with all of our fittings, these come in a range of sizes
Snap hooks – This is an extremely secure fitting which will be stitched onto the strap itself. This creates a strong anchoring point that removes any risk of disengagement
Find out more about our range of cargo restraints
If you're looking to securely fasten down loads without having to worry about potential breakages or damages, then you've come to the right place! Using our onsite facilities, we are able to design, manufacture and test all of our equipment to the highest standard.
Call 01384 78004 now for sales and advice. We can also advise on which end fitting will work best for you. Or, if you would like to discuss one of our other products, then we would be more than happy to do so. You can also find our other contact details listed here.
There are no products to list in this category.