Features and Benefits of Wire Rope Hoists
7 February, 2018
Wire rope hoists are lifting mediums which have a range of uses within many industries today. In this article, we have summarised just exactly what they are, the main types of hoists available, as well as the various benefits they have over other hoist systems. Please read on if you wish to find out more.
What are wire rope hoists?
A wire rope hoist is a lifting medium used extensively within environments where heavy duty lifting occurs, such as heavy foundries, factories and manufacturing plants. Electrically powered, these hoists are similar to conventional standard electric hoists, which instead use steel chains in order to lift loads of varying weights.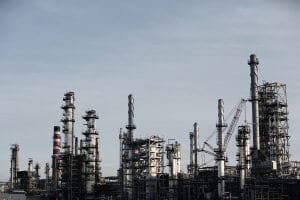 This equipment is used in many manufacturing plants
However, because ropes made from wire have higher SWLs (safe working loads), they are often more suitable for heavy lifting than standard chain hoists, meaning they are becoming increasingly popular within the industrial sphere today.
The benefits of this equipment
Wire rope hoists have a range of benefits, which often makes them the preferred lifting medium when compared to
other hoists
. Some of these benefits are:
Its suitability for heavy duty lifting – wire rope hoists are able to lift much heavier loads than other hoists, because wire rope is manufactured using multiple wires, meaning the weight of a load is spread across many different pieces of strong metal. While chain hoists can lift up to around 30,000kg, some rope hoist systems can lift a staggering 90,000kg. This makes them much more suitable for industries where heavy lifting occurs on a regular basis.
Its safety – Safety is another huge benefit of this equipment. The fact there are many wires and strands means that if one breaks, some strands will still be intact to hold a load while it is safely lowered.
Its high resistance – the lifting medium is extremely resistant to corrosion, rust and abrasion, and so will likely not spoil. There is also the offer of buying a galvanised version, whereby the rope has an even greater resistance to these harmful elements.
The range of options available – there are a range of different rope hoist systems available today, meaning there is something for everyone's lifting and lowering needs. These different systems are explained in more detail below.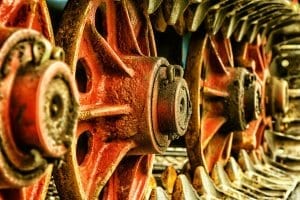 They have a good resistance to harmful corrosion such as this!
Different wire rope hoist systems
There are many different types of rope hoist system used in industries today. These include: standard headroom/monorail, foot or base mounted and crab unit hoisting systems. Although all are used to lift loads of varying weights, they differ slightly in their application:
Standard headroom/monorail hoists – typically used on single girder overhead crane systems, these hoists are best used when there is no working height restriction under the beam on which the hoists are attached. The hoists come with their own trolley systems, to accompany all your lifting and lowering needs.
Foot or base mounted hoists – these extremely handy pieces of equipment that have the option of being used as either a static hoist or a mobile lifting hoist, meaning they have a wealth of different uses within industrial environments. This is because the hoists can be fixed to a gantry system, or mounted to trolley systems such as crab unit trollies.
Crab unit hoists – these hoist systems are ideal for tasks where heavy lifting is going to occur. Crab unit systems are used on double girder cranes, running along the top edge of both girders. Out of the three different hoist systems, crab units allow for the maximum possible height of lift under the beam. However, a downside of these hoists is the fact that because the system runs along the top edge of the girders on which it is placed, more height is required above the girder.
Get in touch with Rope Services Direct today
A popular alternative to conventional standard electric hoists, rope hoists offer a number of advantages within the industrial sphere today. Furthermore, the fact there are a number of different hoists available means there is definitely something suited to your lifting and lowering needs! We hope the above article has been helpful in explaining exactly what wire rope hoists are, as well as the range of benefits they have and the types that we stock here at Rope Services Direct. However, if you wish to find out more about lifting hoists, please do not hesitate to contact our team today, who are always happy to answer any questions you may have. You can find our contact details
here
.