Wire Rope Use in Garden Trellis Systems
18 January, 2018
If you've been following our blog, then you'll know by now that
wire rope
is one of the most versatile and adaptable pieces of equipment on the market! It is used in dozens of applications across many industries around the world, and it seems that we always have a never ending stream of articles being published showing you yet another use for the equipment. Well, today, we do have another use to write about. This is how the equipment is used in garden trellis systems.
What are garden trellis systems?
A
garden trellis
, often just referred to as a trellis, is a type of architectural structure which is made from some kind of open framework. It is most commonly used in order to support the growing of climbing plants, and is a great way to display them in an aesthetically pleasing way too.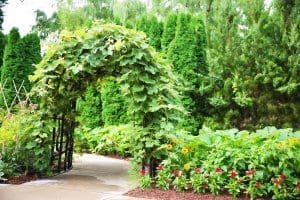 An example of a trellis in a garden
They have become incredibly important and widely-used pieces of architecture, sometimes out of necessity, but sometimes just to add to the environment that they are placed within. Whether for simple home use, or for larger use in places like palace gardens, garden trellis systems are now a staple part of many gardens around the world.
Why is wire rope used?
A garden trellis system can be made from a variety of materials such as wood, plastics or, our personal favourite, rope constructed from metal wire! There are several reasons to use different materials. The first is aesthetic; what will fit in best into the surroundings and add the most value to what you are trying to achieve with your look. Wire rope, although seemingly more industrial in nature given its metal construction, has grown in recent years as a popular aesthetic product.
Wire rope balustrades
, for example, are now widely used in home maintenance for structures such as decking. Not only are they safe, but they look great too. But there are also other important considerations that you must think about too. Firstly, as the plant, vine, shrub or tree begins to grow up along the trellis, it will add extra weight to it. The trellis therefore needs to be strong and supportive. Our rope, being made of metal, is therefore one of the strongest options for those looking to create a garden trellis. Alongside this, the trellis will most likely be outside, exposed to the elements. So, for this reason, it will need to be able to withstand all types of weather, be it sun, rain or even snow. Wire rope is great for this, as it is constructed and manufactured with resistance in mind.
Are you looking to purchase some equipment?
Are you interested in constructing your own garden trellis? Or perhaps you want to use the equipment for other forms of home maintenance, such as for garden decking? Or, maybe you work in an entirely different industry! Regardless, we would be more than happy to help. To find out more about our wire rope, or our other range of products, please get in
contact with us here
.