Rope Services Direct possess knowledge of the shipping crane industry and the type of wire rope that is required for this sector. We supply a wide selection of high performance, high quality wire rope designed to aid in the efficiency of your lifting operations in maritime environments. Ship crane rope are discussed on this page, for dockside crane rope click here.
Maritime and off shore operations chose wire rope for its corrosion resistance. Other factors include flexibility, breaking strength, and resistance to deformation. It requires many different properties such as being able to bend without damage. Is should also be resistant to corrosion and friction.

Shipping cranes

Crane ships or floating cranes specialise in lifting extremely heavy loads in environments where speed is ultra-important. Shipping cranes are frequently used for material handling in harbours & ports for applications such as container handling and dry bulk handling.
Shipping cranes are as well used in offshore construction such as the building of oil rigs. The largest crane vessels often need increased stability in order to facilitate the lifting of heavy loads safely. Fixed sheer leg cranes are unable to rotate. Manoeuvring the vessel to position loads is necessary.
One of the main advantages to using floating cranes is their immense flexibility. They can literally transport loads to virtually any location required.
Requirements for using ship crane rope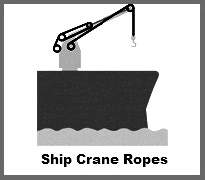 Due to being constantly exposed to corrosive seawater, wet and heated working temperatures, wire rope used in ship cranes needs to be regularly checked for wear and tear.
Some of the things you should check for
include tensions on the wire and strands as well as chafing and internal wear. Common uses of wire rope on ships are hoist ropes, auxiliary hoist ropes and as boom hoist ropes.
The importance of corrosion protection
Corrosive environments will usually require a galvanized rope. This helps protect the rope against rust and corrosion in applications where moisture could damage the rope. Where applicable, plastic impregnation (PI) can also be considered.
In order to minimise the effects of corrosion we also recommend selecting a wire rope with a suitable manufacturing lubricant. Regular relubrication of wire rope is also essential in order to make sure there is minimal abrasion to the rope that could cause potentially hazardous wear and tear.
Order your marine quality galvanized steel ship crane rope today
Here at Rope Services Direct we stock a wide range of galvanized steel wire rope ideally suited for shipping cranes or applications working in wet/moist environments. When required our opinions and advice will be freely given. So don't hesitate to call us if you need help. For more information on selecting the best option wire crane rope for your requirements, please give us a call on 01384 78004 today. Alternatively, if you prefer you can also contact us via our contact from which is on our contact us page.