As part of our range of wire rope for dockside cranes, this 8x19 construction option is strong, reliable and safe. Offered in a number of diameters we can supply this type of rope in whatever length you require. Read on for more information on the dockside crane hoist rope 8x19 compacted construction wire rope.
Features of the Dockside Crane Hoist Rope 8x19 Compacted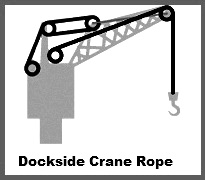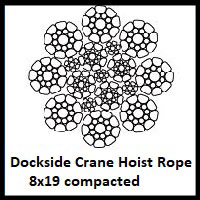 This wire rope promises impeccable performance, with its 8x19 construction allowing it to offer greater load-bearing abilities than many alternatives of equivalent thickness. The configuration of the wires ensures a higher fill factor than would usually be seen. The minimum breaking loads range from 43kN to 238kN on this rope.
Breaking load goes hand in hand with diameter, and there are lots of variables on offer in this respect. The narrowest of the bunch measures 6.4mm. So coupled with the largest at 15mm you have plenty of choice.
Assets of this Wire Rope range
This compacted wire rope is for hoisting in a dockside context. A further benefit to this rope is its crush resistance. The only point to note is that its design does not give it any non-rotating properties, so our 24x7 non rotating construction rope or alternative products in this category will be a better choice for certain crane-lifting scenarios.
Call or Email Rope Services Direct
The Rope Services Direct team can help with your crane rope questions, give you a quote for compacted rope for hoisting and provide comprehensive specifications for any product on our site. Call us today on 01384 78004 or email us if you would prefer a written response.