When it's a particularly tough job you need to get done, then make sure you look through all the heavy duty rope grips available at Rope Services Direct.
Heavy duty rope grips – reliable and tough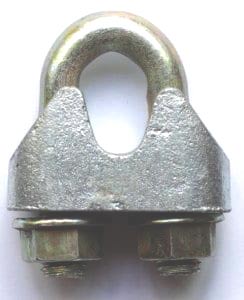 These rope grips are designed to be used for heavy jobs. Created for high tensile galvanised steel rope or stainless steel rope, they can also be utilised on fibre ropes. All our rope grips are easy to purchase in a variety of designs. Perfect for use in the architectural, building or sailing industries; utilised for temporarily joining and holding two ropes together.
They are available to suit a wide choice of diameters of rope from 5mm up to 40mm. With a mild steel U-bolt and malleable cast steel bridge with electro-galvanized finish & all to DIN 741 standards you can be sure of a quality product.
If you are not complete clear whether it's a heavy duty one that's actually do the job, it's a great idea to spend time looking at all other varieties of rope fittings such as wire rope grips and wire rope sockets which are available too.
Make sure you send us your order now!
Located near Birmingham in England, at Rope Services Direct we are experts in our field and supply heavy duty type rope grips to purchase. Interested in placing an order? Just complete and send back our quick e-form here. Of course you can also call us too, on 01384 78004 – we are always pleased to help.


Heavy Duty Rope Grips Specifications
| | | | | | | | |
| --- | --- | --- | --- | --- | --- | --- | --- |
| Diameter Wire Rope mm | Diameter Bow mm | Length Bow mm | Width Inside mm | Length Thread mm | Length Base mm | Thickness Base mm | Height Base mm |
| 5 | 5 | 25 | 12 | 14 | 25 | 13 | 13 |
| 6.5 | 6 | 32 | 14 | 17 | 30 | 16 | 14 |
| 8 | 8 | 41 | 18 | 20 | 39 | 20 | 18 |
| 10 | 8 | 46 | 20 | 24 | 40 | 20 | 21 |
| 12 | 10 | 56 | 24 | 28 | 50 | 25 | 24 |
| 13 | 12 | 64 | 29 | 29 | 55 | 28 | 29 |
| 14 | 12 | 66 | 28 | 31 | 59 | 30 | 28 |
| 16 | 14 | 76 | 34 | 35 | 64 | 32 | 35 |
| 19 | 14 | 83 | 37 | 36 | 68 | 33 | 40 |
| 22 | 16 | 96 | 41 | 40 | 74 | 34 | 44 |
| 26 | 20 | 111 | 46 | 50 | 84 | 38 | 51 |
| 30 | 20 | 127 | 54 | 55 | 95 | 41 | 59 |
| 34 | 22 | 141 | 60 | 60 | 105 | 45 | 67 |
| 40 | 24 | 159 | 68 | 65 | 117 | 49 | 77 |