Our custom straight stainless steel ferrules are adapted to work with wire rope assemblies and minimise electro-chemical corrosion. Pressed with powerful equipment to ensure total strength, these ferrules will keep the termination point of a stainless steel rope under control.
Perks of Straight Stainless Steel Ferrules
Along with the other ferrules you can order from us, these straight stainless steel ferrules provide a firm fit and are a popular option when creating rope assemblies for safe lifting applications. Our made to measure stainless steel ferrules will be best suited to use in combination with rope that is made out of the same material. This ensures longevity and lessens the likelihood of corrosion occurring.
How our Stainless Steel Ferrules are Made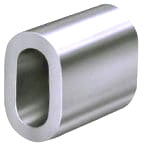 A straight ferrule creates a sturdy bond with the rope, so long as it has been properly pressed. This is where our compression process comes into its own, with significant forces exerted upon the stainless steel ferrule to prevent it from loosening or shearing.
The way we manufacture our stainless steel straight ferrules also helps in this respect, as they are extruded in an unbroken chain and then cut to size. This eliminates flaws and maintains the same high standards found on all products sold here at Rope Services Direct.
How to Contact Rope Services Direct
For more information on the stainless steel straight ferrules we sell, or for a quote on any fittings, just get in touch with us via phone or email. You can call 01384 78004 or visit the rapid response page on our site if you have a question that needs answering.
Wire Rope Capacity Diameter (mm)
Die Identification
Ferrule Size
Fill factor (f=0.42-0.52) Fibre core
Fill factor (f=0.53-0.58) Steel core
Dies Marked
Diameter after pressing
Required pressure approx.
Min
Max
Min
Max
mm
Tol
kN
1
0.9
1.1
0.8
1
1
3.4
+0.1
10
1.5
1.2
1.6
1.1
1.4
1.5
3.9
0
20
2
1.7
2.2
1.5
2
2
4.5
+0.15
40
2.5
2.3
2.7
2.1
2.6
2.5
5
0
60
3
2.8
3.2
2.7
3
3
6
90
3.5
3.3
3.7
3.1
3.5
3.5
7.8
120
4
3.8
4.2
3.6
4
4
8
160
4.5
4.3
4.7
4.1
4.5
4.5
9.8
200
5
4.8
5.4
4.6
5
5
10.8
+0.3
250
6
5.5
6.4
5.1
6.1
6
12.3
±0.3
300
7
6.5
7.4
6.2
7.1
7
14
+0.3
400
8
7.5
8.4
7.2
8.1
8
16.4
±0.4
500
9
8.5
9.5
8.2
9.1
9
18.4
650
10
9.6
10.5
9.2
10.1
10
20.4
800
11
10.6
11.5
10.2
11.1
11
21.5
950

12

11.6
12.6
11.2
12.2
12
24
+0.4
1100
13
12.7
13.6
12.3
13.2
13
26
0
1300
14
13.7
14.6
13.3
14.2
14
28
+0.5
1500
16
14.7
16.7
14.3
16.2
16
32
0
1800
18
16.8
19
16.3
18.2
18
36
+0.6
2200
20
19.1
21
18.3
20.2
20
40
0
2700
22
21.1
23.1
20.3
22.2
22
44
3200
24
23.2
25.2
22.3
24.2
24
48
+0.8
3800
26
25.3
27.3
24.3
26.4
26
52
0
4600
28
27.4
29.4
26.5
28.4
28
56
5200
30
29.5
31.5
28.5
30.3
30
60
6000