Eye Nuts & Eye Bolts
Refine Search
Showing 1 to 1 of 1 (1 Pages)

Rope Services Direct is able to supply lifting eye nuts (often called "eyes" in the industry). Eye nuts are suitable for a variety of applications and provide a circular fixture with multiple purposes for lifting operations. Please find below all the product information that you'll need to know about this type of product. You can also find out more about Rope Services Direct on our About us page.
More information on our eye nuts and eye bolts
Our eye nuts and eye bolts are extremely similar in nature. It gets its name 'eye' from the fact that the equipment itself resembles one. With a circle/oval shaped whole through which other equipment can be thread through. (For the difference between a bolt and a nut, please head to the section below).
This equipment is used to provide a safe, secure and strong fixing or anchoring point for dozens of operations. Made from strong stainless steel, this product will give you a solid point around which to base your operations.
There are a large number of internal eye diameters with the majority measuring between 16mm and 60mm in size. Our eyes have a wide weight bearing limit stretching from 0.3 to 2.2 tonnes.
This product is most typically made from stainless steel. Our stainless steel is designed to resist corrosive and abrasive factors that can commonly occur during heavy industrial operations. If you would like to discuss other metals or other ways to protect your lifting gear, we would be happy to discuss the options with you.

The difference between a nut and a bolt
While the 'eye' part of this equipment will remain the same, there is a small difference when it comes to the use of a bolt or a nut. In short, a bolt is much like a screw. Whilst a nut is a hexagonal object with a thread running through it.
In many operations, you will typically see nuts and bolts being utilised together, as the nut can be screwed around a matching bolt. However, in this case, our bolts will feature a loop and a screw-like design on the bottom. Our nuts will also feature an eye, but then simply a threaded hole at the bottom where it can be screwed onto existing structures that have screw heads.
Both perform the same function, it simply depends whether you need to create a new screw point for the anchorage, or whether you already have an existing point to which you can screw an eye nut.
Eyebolts
Eyebolts are used to create an anchorage point to assist with lifting objects which cannot be lifted by hand or by fork lift. They consist of a round shaped eye with a threaded shank of various lengths and diameters, they simply screw into the relevant surface to produce a secure fixing position from which you can attach other equipment.
They are available in various types & sizes available from m6 to m64 in high tensile steel or m6 to m24 in stainless steel.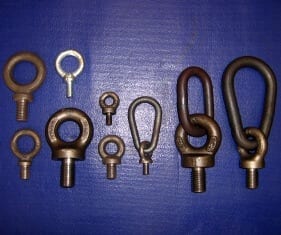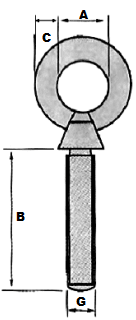 Eye Nuts
Eye nuts are also used to create a strong anchorage point to assist with lifting operations that can't be completed by hand alone. They also have a round shaped eye, and a hole at the bottom where they can be screwed into existing setups. They are designed to create a fixing point safe for a huge range of operations.
This piece of equipment is also available in a variety of types and sizes, call us for information.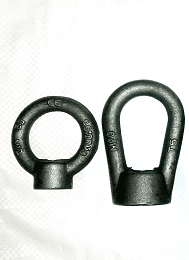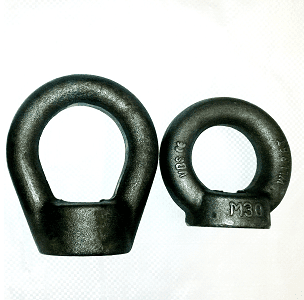 Get in touch with us
All of our equipment, whether it's what you see listed here or whether it's something else entirely, is designed with only the highest quality in mind. To order this wire rope fitting simply view the stock on this page or phone 01384 78004 for advice and sales support. You can also get in contact with us here.