Balustrade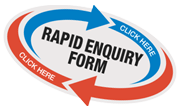 Wire rope balustrade are a speciality of ours. Here at Rope Services Direct we stock and manufacture a wide range of
wire-rope assemblies
suitable for use on balustrade kits and systems.
Wire rope balustrade or cable railing is a versatile way of creating a barrier to prevent accidents or just to define a specific area whilst at the same time creating a contemporary feel. Choose from a variety of materials (e.g. stainless steel balustrade) to achieve the perfect style for your needs.
Wire rope balustrades are versatile and make a cable railing / barrier system. Commonly used on stairways, boats, garden decking and balconies for safety reasons.
They are also becoming very popular in public areas to safeguard the public. For example castles install them around the castle walls and ramparts to enable the public to walk around them safely. The public simply would not be allowed to go up without these barriers due to health and safety factors.
Our range of galvanised wire-rope and stainless steel wire-rope along with numerous swaged terminal or swageless fittings will provide an aesthetically pleasing architectural type metal balustrade design with excellent durability.
Wire Rope Balustrade Fittings
We can create wire rope balustrades in a kit. Bespoke to you to suit your specific requirements in any design you choose, e.g. stainless steel balustrade for stairwell. We offer both swaged and swageless terminations. These are to suit the vast majority of applications whether permanent, temporary, and professional and self-assembly.
Our swaged fittings undergo a process using specialist dies in our presses. Once the die, rope and termination are inserted into the press machine many tonnes of pressure are applied. This compresses the fittings to form a permanent connection. This type of connection is used for permanent rigging applications. Commonly using forked terminals, rigging screws, studs and eye type end terminations.
Other Fittings
Rigging screws and turnbuckles are excellent for fine adjustment of the tension of the rope. This is so you can have it extremely taught or a little slack, the choice is yours. Rope needs to be tight for barrier and security purposes. For aesthetic wire rope balustrades such as decking, then the rope may be slack to give a slightly draped effect. There are hand held swagers and other tools which can enable the fitting of some permanent swaged fittings on site. This could be good if you are not sure of the exact lengths of rope, great for you DIY'ers.
Swageless terminals are ideal for semi-permanent applications and do not require professional assembly. They are also commonly used by the DIY'er as it is fairly simple to change/replace a swageless fitting. All you need is some wire cutters to cut off the old, worn rope, and a couple of wrenches to secure the fitting to the newly cut end of the wire-rope. Our swageless fittings are perfect for self assembly of steel wire balustrades.
Cable Railing
Some of the fittings commonly used in wire rope cable railing systems are listed below. All supplied in hard wearing stainless steel you will find fittings to enable easy fitment to wood, steel and more. All you will need is a good drill with the correct drill bits for the material you will be drilling, i.e. wood, masonry, metal.
If you would like some help in calculating what you are likely to need for a DIY job give our team a call on 01384 78004. We are always ready to help if we can. Alternatively if you know exactly what you need you can use the contact us page or the rapid enquiry button to send us an email with your requirements.
There are no products to list in this category.