Swaged Terminals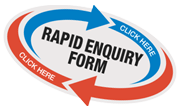 Rope Services Direct supply swaged terminals which act as terminations in wire rope fittings. This is to be used in conjunction with our popular wire rope, which we can supply in a huge range of lengths and diameters. While you can purchase the rope as standalone equipment, it is rare that you should have need for this alone.
These fittings provide a secure end termination for wire ropes. We have a wide variety to choose from. To make it suitable for a number of applications. Our swaged terminals are one such type of end termination. You can find all product information and contact details for ordering below.
What does swaged mean?
The main purpose of a swaged fitting is to provide an anchoring point at the very end of the rope.
The fitting has a hole at its centre in which the wire rope is positioned. An industrial press machine will apply tonnes of force to create a permanent connection between the rope and terminal.
Wire ropes need permanently connected fittings for certain operations. With just the rope alone, it doesn't serve as many wide ranging and beneficial purposes.
Rope Services Direct can professionally fit your swaged terminal. We use industrial presses to apply the many forces required for a secure end fitting. If you do it yourself or by others who don't know what they're doing, you can't guarantee a permanent or safe fitting.
Swaged fittings can maintain a high percentage of the breaking load of the wire rope. This figure can be as high as around 90%.

What are some typical applications for swaged terminals?
This equipment is used in a variety of industries including architectural, marine & oil and gas as just a few examples. There is an excellent range of terminals which we can swage onto wire rope. so please ask if you require anything specific.
The reason it enjoys such widespread usage across such a range of industries is thanks to the many benefits that we have examined above.
Some of our other popular wire rope fittings
We have a wide ranging number of wire rope fittings available if a swaged terminal isn't right for you. You can see our available stock here. Terminals that have been swaged are often used with other equipment. Such as turn buckles or rigging screws. If you are unsure which is the right selection of gear for you, please find our contact details below, where we will be more than happy to assist you.
We also provide swageless terminals, which achieve the same aim, except they are manually hand-fitted rather than being machine driven liked swaged terminals. However a swageless terminal may not be as strong. Although they do allow fitting whilst on site.
Place an order for swaged terminals
Swaged terminals require the work of professionals to ensure that only the most secure and permanent swaged fittings are created. We have our own wire rope riggers and all the right tools to complete any task. Our fittings come with a great choice of sizes. Our Wire ropes do too which ensures a perfect assembly.
Call Rope Services Direct on 01384 78004 and rely on us for the supply of the highest quality equipment and wire rope fittings. Alternatively, please find a full list of all of our contact details here.