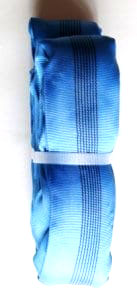 Are you wanting to buy a tough 8000 KG round sling for your business? Then you're in the right place. We have many other wire rope, webbing and fibre rope products available here at Rope Services Direct as well as rope fittings and lifting gear.
8000 KG round sling – long-lasting and safe

UK made and superior quality, our round lifting slings all meet BS & CE lifting standards. Offered as an effective substitute to lifting chains and wire rope, these round slings are created to move a great spectrum of loads. They're especially effective in handling choke-lifting cylinder shape objects due to them being made of toughened tubular polyester webbing.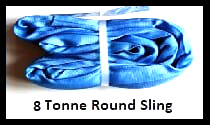 Used in fishing, sailing, marine and engineering industries, our 8000kg model is also recommended for the transportation of animals, securing freight and for leisure activities such as rock climbing and fitness work.
It is absolutely essential that an 8000 kg round sling is never overloaded to more than this weight limit. To see what else we have, it's a good idea to explore our entire stock of round slings , fibre rope slings and other lifting slings too, so that once you've ascertained the amount of weighted to be lifted you can choose the most suitable one.
Ordering an 8t sling?
Need a specific round sling and want to place an order? No problem! We are here to help. To secure your order of lifting slings with us, all we ask is that you accurately complete our form here. Don't forget, our team are always on hand to answer any queries you may have too. Speak to the team on 01384 78004.
| | | | | |
| --- | --- | --- | --- | --- |
| SWL tons | Length EWL MTR | Average Dia mm | Colour | Weight KG |
| 8 | 1 | 48 | Blue | 1.6 |
| 8 | 2 | 48 | Blue | 3.2 |
| 8 | 3 | 48 | Blue | 4.8 |
| 8 | 4 | 48 | Blue | 6.4 |
| 8 | 5 | 48 | Blue | 8 |