Need a round sling that's capable of lifting up to6 tonne? No problem! The search is now over thanks to the 6000 kg round sling we have available on the Rope Services Direct website. The brown colour indicates the industry standardised 6000 kg safe working load; this is to enable quick & easy identification.
6000 KG round sling – Great Load Protection


We are proud to offer amazing quality, UK made BSEN1492-2 2000 CE round lifting slings. Designed to lift and move all sorts of different types of load, these highly versatile lifting slings are a great alternative to chain slings and wire rope. Made of highly durable polyester webbing, the tube like format ensures there are no rough seams or sharp edges to mark/harm the load. They are also perfect for basket lifts and choke-lifting cylindrical shaped items in particular.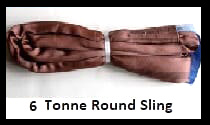 As well as being used in boating and mechanical industries, our 6000kg round slings are great for a variety of projects in commercial, retail and leisure activities too. These include transporting animals, use on campsites, supporting art work and installations, and sporting activities.
Remember, if you're not sure exactly which one you need, why not browse the rest of our range of round slings as well as our fibre rope slings too, as they should never be overloaded with more than they can hold safely. Choose wisely!
Go ahead and order your sling
Rope Services Direct are always on hand with a mix of 6000 kg round slings to meet every customer requirement. To give us your order, just fill out our quick online enquiry form here. For extra help or to ask us a question, please feel free to contact us on 01384 78004.
| | | | | |
| --- | --- | --- | --- | --- |
| SWL tons | Length EWL MTR | Average Dia mm | Colour | Weight KG |
| 6 | 1 | 40 | Brown | 1.16 |
| 6 | 1.5 | 40 | Brown | 1.74 |
| 6 | 2 | 40 | Brown | 2.32 |
| 6 | 3 | 40 | Brown | 3.48 |
| 6 | 4 | 40 | Brown | 4.64 |
| 6 | 5 | 40 | Brown | 5.8 |
| 6 | 6 | 40 | Brown | 6.96 |