Looking for a superior quality, durable 2000 KG round sling? The good news is we have a great range of stock online at Rope Services Direct now.
2000 KG round sling – for up to 2 tonne lifting

Here at Rope Services Direct we strive to provide British or EU made round lifting slings to comply with both BSI and CE legislation. These slings will move and lift numerous load types and can safely be used as fine alternatives to wire rope and lifting chains. Made of high-strength polyester webbing, they are particularly suited to lifting cylinders and items of a more delicate nature.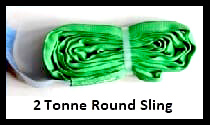 Round slings work well in motor and marine workshops, for sporting purposes, artistry, garage work and for transporting animals, plus much more. It is important to note the type of hitch you will be using and the angles, all can affect the working load limit of the sling, check out the main round sling page for more details.
It is essential to remember that each round sling is only designed to hold a maximum weight, in this case 2000 kg, and should never be overloaded. For a heavier duty sling, we have special manufacture higher load round slings may be more suitable.
Interested? Place an order for a sling today
When you purchase a sling from Rope Services Direct, you can rest assured you'll find lifting products suit all sorts of purposes. To order your round sling, please spend a few minutes filling out our order form here. We pride ourselves on our customer service so if you need further help or have got a burning question, just call us on 01384 78004 for assistance.
| | | | | |
| --- | --- | --- | --- | --- |
| SWL tons | Length EWL MTR | Average Dia mm | Colour | Weight KG |
| 2 | 0.5 | 24 | Green | 0.23 |
| 2 | 1 | 24 | Green | 0.44 |
| 2 | 1.5 | 24 | Green | 0.66 |
| 2 | 2 | 24 | Green | 0.88 |
| 2 | 2.5 | 24 | Green | 1.1 |
| 2 | 3 | 24 | Green | 1.32 |
| 2 | 4 | 24 | Green | 1.76 |
| 2 | 5 | 24 | Green | 2.2 |
| 2 | 6 | 24 | Green | 2.64 |