Rope Services Direct have a range of lifting clamps for sale, these can be sub-categorised into beam clamps, construction clamps, girder clamps and plate lifting clamps. Our clamps have capacities from 500 – 5,000kg.
There are a vast range of clamps available as you will see from the products listed below (more coming soon), they are ideal for the transportation of sheet metal in particular and are often used in conjunction with lifting slings.
With so much choice it is worth taking time to understand your requirements before placing an order. When you are ready call us on 01384 78004. We can provide friendly impartial advice and also process your order.
Rope Services Direct offer plate lifting clamps for lifting sheet materials in either the horizontal or vertical plain.
About Plate Lifting Clamps
A plate clamp is a lifting device which is used to aid in lifting and transporting steel plate or other sheet materials. There are 2 main types of plate lifting clamps. They are vertical plate clamps and horizontal plate clamps. As their names suggest, one will lift the sheet material in a vertical position and the other in the horizontal position. Another plate lifting clamp which is available from good lifting gear suppliers, and that is a universal plate clamp. These allow the sheet steel to be lifted in either position, horizontally or vertically. And so may be more cost effective if you need to lift sheets in both positions on a regular basis.
Each type of plate lifting clamp is available in various models. Some are designed for thin sheets, some are extra heavy duty. There are some that have adjustable jaws, are hinged, have high grip properties or have an added safety lock. A few models are called non-marking because they will lift sheet steel without leaving any marks at all. Some have smooth jaws, some have hardened steel jaws. Some can have protective rubber linings to reduce marks and some models will have a roller bar fitted to help with mark reduction. So there is a model for just about every lifting scenario.
Plate Clamp Types
A vertical plate clamp is commonly used to transport sheet materials in an upright, vertical position. Yet some models allow the sheet to be rotated through 180 degrees. If you need to transport large sheets that may sag easily then it is common practice to use two or more plate clamps at the same time. This is in conjunction with a spreader beam ensuring even spacing for stability.
Horizontal plate clamps are always used in pairs to transport single or multiple sheet materials in a horizontal position. As with the vertical clamp they incorporate 2 jaws. They are often used fixed to a chain sling and the clamping force comes from the weight of the load through the chain sling's legs, the amount of clamping force depends on the angle of the sling legs as well as the weight of the load, so it is important that the weight of the load is evenly distributed and also in line with the centre of gravity from the centre lifting point of the sling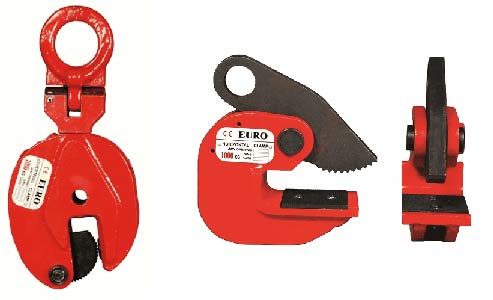 Vertical Plate Lifting Clamp
As part of our lifting equipment, we supply these robust plate lifting clamps with lifting capacities from 500kg to 5000kg and are ideal for lifting and transporting sheet materials one sheet at a time. The universal pivoting eye enables plate to be lifted in the horizontal plane and turned to a vertical plane and vice versa. The different capacity models have varying jaw openings to suit a range of plate thicknesses from 0-15mm on the 500kg model up to 0-30mm on the 5000kg model.