Non-rotating equipment is the perfect solution for applications requiring main hoist ropes, crane ropes, deck ropes, whip ropes or many more. Here you will find more information on our 32x7 non-rotating wire rope.
Full product information for the 32x7 non-rotating wire rope
Non-rotating equipment has been specially designed so that the outer layers and inner layers run in opposite directions. This will prevent the rope itself unravelling, losing strength, or failing. Any of these situations or circumstances could obviously be extremely catastrophic.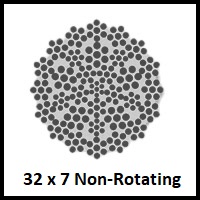 While standard wire rope is perfect for many situations, sometimes non-rotation rope is the only solution. However, you must ensure that you handle this product with the utmost care, as it is generally a little more unstable than its counterparts in that there is more internal friction between the wires and the strands.
For this reason, it is imperative that you inspect your equipment more regularly, taking the time to ensure that it remains in a safe working condition. Please also avoid any shock loading, and ensure that the seizing the ends of the rope has been done correctly so that the strands will not unravel.
Would you like to find out more information on anti spin rope?
32x7 non-rotating wire rope has become an incredibly useful product, and helps to service many industries where standard equipment can't. But, as mentioned extra care needs to be taken. We can help with inspections, or any other questions you may have. Simply call us on 01384 78004.
Or, if you are simply ready to order, please fill out a rapid enquiry form at the top of this page or email us on the contact us page.
Nominal Diameter
Approximate Mass
Minimum Breaking Loads
1960 Mpa
[mm]
[kg/m]
[kN]
[Kg]
8
0.291
45.16
4,606
9
0.368
57.15
5,829
10
0.454
70.56
7,197
11
0.549
85.38
8,708
12
0.654
101.61
10,363
13
0.767
119.25
12,163
14
0.89
138.3
14,106
15
1.022
158.76
16,193
16
1.162
180.63
18,424
18
1.471
228.61
23,318
19
1.639
254.72
25,981
20
1.816
282.24
28,788
22
2.197
341.51
34,834
24
2.615
406.43
41,455