Here at Rope Services Direct we stock several varieties of non-rotating wire ropes. While each performs a similar function, they all possess their own unique qualities and benefits, and it's important that you pick the right one for your operation. Below you will find some brief information on our 28x7 non-rotating wire rope. If you have questions or are ready to order, then please feel free to skip straight to our contact details at the bottom of this page.
Everything that you need to know about our 28x7 non-rotating wire rope
Our non-rotating equipment has been expertly designed, manufactured and tested using our modern, on-site facilities. It features 28 bundles of 7 strands of strong, stainless steel wires. We have laid the layers in opposite directions, which creates that excellent level of rotation resistance that our clients are after.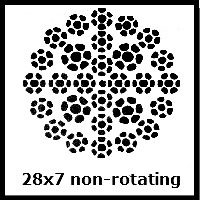 While standard wire rope is suitable for the majority of operations, you will sometimes need to ensure that your load remains completely stable during lifting and lowering. This is especially important for heavy loads or delicate objects. For this, there is no better solution than non-rotating equipment.
Secure your anti spin rope today
We are extremely proud of the equipment that our team produce here at the Rope Services Direct workshops. We have become one of the preferred suppliers in the UK. So whether its rope , webbing or special assemblies you are after you can find out more about this equipment, or any of the other products that we stock, please don't hesitate to give us a call on 01384 78004.
1960 Mpa
2160 Mpa
Diameter
KG/M
kN
kN
10
0.49
89.1
99
11
0.59
107.8
119.8
12
0.71
128.3
142.6
13
0.83
150.6
167.3
14
0.96
174.6
194
15
1.1
200.5
222.8
16
1.25
228.1
253.4
17
1.42
257.5
286.1