Pick up the single point standard harness kit from Rope Services Direct. If you need a safe, secure restraint system for working at height this is made from high quality materials. It also offers adjustability to fit every body type.
Benefits and Features of this single point standard harness kit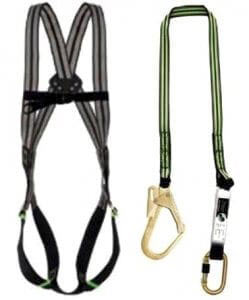 With this kit you get a single point full body harness. There is also a shock-absorbing web lanyard and a carry bag included. This kit makes an impressively affordable bundle.
The harness has adjustable thigh straps and a comfortable sit strap. There is also a D-ring on the rear to keep the user safe and prevent falls from high structures.
The lanyard measures 1.8 metres in length and has webbing to cut the force of the fall. It also has a hard-wearing, easy to use scaffold hook at one end, while the other is equipped with a karabiner to clip onto the harness.
The bag brings the whole thing together. It provides a place to store the harness and lanyard in between deployments.
Other Height Safety Kit Options
Check out the 2 point scaffold kit or the 3 point restraint kit if this single point version does not meet your needs. We also have a great range of individual lanyards and fall arresters available.
Need Help with Choosing Safety Equipment?
Just ask the experts on our customer support team if you have questions about height safety products or want to get a quote for the kit of your choice. You can speak to someone direct by calling 01384 78004 or get a quick response via email from our contact page