Our 2 point restraint harness kit (adjustable rope lanyard) is strong, versatile and safe for a number of at-height working scenarios. The harness and lanyard are bundled with a rucksack or kit bag, making the deal even more attractive.
Features of the 2 point restraint harness kit to Consider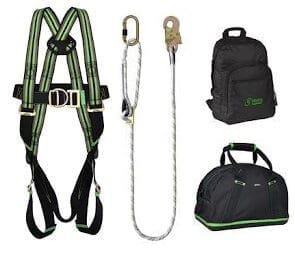 As an alternative to our 2 point restraint harness kit (adjustable rope lanyard) is one with an adjustable webbing lanyard. This bundle matches a universal harness with a lanyard that is tough, durable and simple to alter.
The length of the lanyard can be varied between 1.4 and 2 metres, just like its webbing-based counterpart. Where this kit stands out is in the inclusion of abrasion-resistant thimbles at each loop. It also boasts the presence of a protective transparent sleeve which keeps the stitching free from damage.
Harness, Straps, D-Rings and more
The universal harness is consistent in its features with many of our other safety equipment bundles. Including the single point scaffolding kit. You can adjust the straps to make sure they fit your shoulders and thighs. While using the colour differences to ensure that everything is oriented in the right way.
The chest and dorsal D-ring attachments double up the fall arrest potential of this kit compared with its single point counterparts.
Looking for Height Safety Equipment Assistance?
Simply contact Rope Services Direct and we can provide all the information you need to make the right choice when buying safety equipment of all kinds. The number to call is 01384 78004, or you can email us in a matter of seconds for a lighting quick response.