18x7 Stainless Steel Wire Rope
Please read on below to find out everything that you need to know regarding our 18x7 stainless steel wire rope construction. If you would simply like to place an order for any diameter 18x7 stainless steel cable from 6mm to 24mm, then please fill out the rapid enquiry form above, or give us a call.

18x7 Stainless Steel Wire Rope Product Information

This wire rope has been constructed from 18 bundles/strands of 7 wires of stainless steel, resulting in the strong, sturdy and robust product that we offer to our customers. 12 of these bundles will form the outer ring, while the remaining 6 will form the inside layer around the core. We do many other constructions in stainless steel including the 6x36.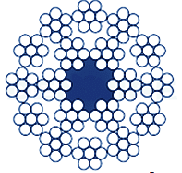 Its stainless steel nature also grants it a great level of strength, longevity, and robustness. Alongside this, it has resistance to abrasion damage, as well as corrosion or rust. This includes resistance against saltwater, and so you will also find that this 18x7 rope is commonly used within the marine industry or for sewage treatment works too.
We can supply this equipment in diameters of 1.5mm up to 16mm, and all products are reliably produced and tested onsite. We have our own special machines located here at our factory, which allows us to produce made to order equipment for our clients and customers.
Find out more about stainless cable
If you would like to know more about the construction of this equipment, or are ready to order one for your own operation, then we would be happy to help. Please either give us a call on 01384 78004, or find a full list of our contact details here.
1570 (AISI)
Diameter
kg/100M
kN
Kg
6
13.75
18.5
1,890
7
18.72
25.2
2,572
8
24.45
33
3,360
9
30.94
41.7
4,252
10
38.2
51.5
5,249
11
46.22
62.3
6,352
12
55.01
74.2
7,559
13
64.56
87
8,871
14
74.87
100.9
10,289
16
97.79
131.8
13,438
18
123.77
167
17,008
19
137.9
186
18,950
20
152.8
206
20,997
22
184.89
249
25,407
24
220.03
297
30,236
Minimum Breaking Force Factor
K = 0.328
Nominal Length Mass Factor
W = 0.382